Recently, Twin Creeks, a US company that specializes in the research and development of solar and semiconductor ultra-thin wafer technology, revealed that they have developed a solar cell that costs half as much as the world's cheapest products. Even better, Twin Creeks' solar cell It is made with particle accelerators.
Currently, almost all solar panels cut a large block of crystalline silicon into a 200-micron-thick silicon wafer, add the electrode plates, encapsulate it with a glass lid, and place it in a place where there is sunlight through the photoelectric effect. (When the photon strikes silicon, it excites the electron, produces electricity, and the light energy is converted into electricity). There are two major drawbacks to this approach: Just as cutting wood produces wood chips, when the crystalline silicon block is divided into 200-micron crystalline silicon wafers, "silicon swarf" is also generated, causing waste, and this waste is close to 50%; In addition, even if the thickness is less than 200 microns, the panel can work well on the surface, but the wafer becomes too fragile or even broken due to being too thin.
As a result, Twin Creeks' particle accelerator, known as the Hyperion's "Ion Cannon", came into being. Seriously looking at the map, you can see that a 3mm thick silicon wafer wraps around the outer edge of the big spoke wheel. Particle accelerators emit hydrogen ions onto these silicon wafers. The voltage of the accelerator is strictly controlled, and hydrogen ions are emitted so as to be accumulated to a depth of 20 microns on the surface of the silicon wafer. The wafers are transported by a robot to a furnace where the hydrogen ions on the surface of the wafer are heated to hydrogen in the furnace, thus separating the 20-micron-thick silicon layer. The substrate is made of metal, making it less brittle (you can see from the right side of the figure that it is very easy to bend). The remaining silicon wafers can be used by the particle accelerator to emit hydrogen ions again. Reducing the thickness to one-tenth of the original wafer significantly reduces wafer waste, which is how Twin Creeks can cut the cost of solar cells by half.
"MIT Technology Review" magazine mentioned that although electron beam technology was once considered, the expensive price of particle accelerators has made commercial implementation prohibitive. Twin Creeks must create its own particle accelerator, which is 10 times more powerful than the accelerators on the market today (100 mA at 1 mega-volt), which is a huge test for innovation.
All in all, if you buy equipment from Twin Creeks, the cost per watt of solar cells is expected to be around 40 cents, which will be half of the selling price of solar cells on the market (most solar cells are made in China).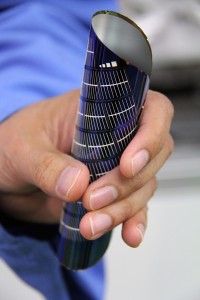 Paint Roller Cover,Paint Roller Refill,Paint Roller Sleeve
Paint Rollers Co., Ltd. , http://www.nspaintroller.com